DJ MAGOO Audio Equipment Hire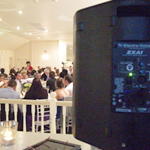 If you're looking for additional sound reinforcement take a look at our full range ZXa1 system. Including 1 x ZXA1 top box with sub speaker per side hire package. The slim line design will fit into the tighest rooms for a truly amazing sound reproduction.
We also have a new range of portable PA kits. The custom ZXA1 has an integrated 800 watts 2 channel amplifier powered by EV. It comes complete with tri-based stand and carry bag. A quick simple 3 step set up for connecting your Ipod and our built in EV wireless microphone. Complete with all leads, weighing less than 9kg.
Choose from a selection of high powered lighting effects, LED par cans, LED bar lights with control to suit any function.
Book early for a discount and avoid any disappointment.
Contact us at DJ MAGOO Party Hire Specialist 7 days a week.